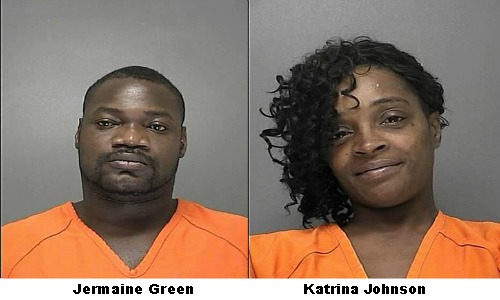 Daytona Beach, Florida — A man was shot by two officers in Dayton Beach early Wednesday morning after police say he held a knife to his girlfriend's neck.
At around 2:45 a.m., police were called to a residence located at 822 Magnolia Avenue in Daytona Beach regarding a fight inside the home.
When police arrived at the house they could hear screams from a distressed female coming from inside the home, and there were several people outside yelling, "He's gonna kill her! He's gonna kill her!" Said police Chief Mike Chitwood.
According to Chitwood, the man shot is a local football star in the neighborhood, identified as 32-year-old Jermaine Lanier Green.
Green graduated from Spruce Creek High School in 1999 and went on to play the position of running back at Washington State University. Green was un-drafted by the NFL, but did land on the New York Giants roster in 2004, however he never played.
When officers made their way inside the residence, Green was holding his girlfriend, 37-year-old Katrina Johnson in a headlock with a knife placed to her throat.
Police gave Green orders to let the woman go and drop the knife, but instead he fell backwards onto the bed.
Green then raised the knife in a motion that suggested to officers he was going to stab Katrina Johnson, at which time the two officers fired several shots at Green, hitting him multiple times in the right side of his body.
Not knowing if Green was laying on a weapon, the officers did not attempt to move Green while they waited for EMS to arrive before clearing Green.
"The suspect is in critical condition at Halifax, and we also shot the woman once in the arm, but she's in good condition," said Chitwood. He added, We have a witness who told me, "Chitwood, if your officers had not shot him, he would have killed her."
The two officers have been placed on administrative leave pending the outcome of an investigation, which will be performed by the Florida Department of Law Enforcement. FDLE investigations following an officer involved shooting, is normal procedure in Florida.
A look into Green's criminal history shows 24 previous arrests for charges ranging from, Criminal Mischief to Possession of Cocaine, Battery, Fleeing or Attempting to Elude a Police Officer, and Aggravated Assault on a Police Officer.
Green's on and off girlfriend Katrina Johnson, was arrested back in March of 2013, for Aggravated Battery With a Deadly Weapon.
Helen Harper, Green's aunt, says he is respected in the neighborhood as a football star.
Harper also said, "Green has a bad temper and people should not mess with him. If you mess with him, he goes wild." Harper added, "Regardless of his temper, he is a good person and a good boy."
Family and friends of Green do not feel he should have been shot, even though a witness stated Green would have killed the girl had he not been stopped.
Green is being treated for his injuries at Halifax Hospital, and is listed in critical condition.
Johnson did not sustain any knife wounds.
This is an ongoing investigation, check back with Ocala Post for updates.
[Updated December 11, 2013 to include the body cam video.]