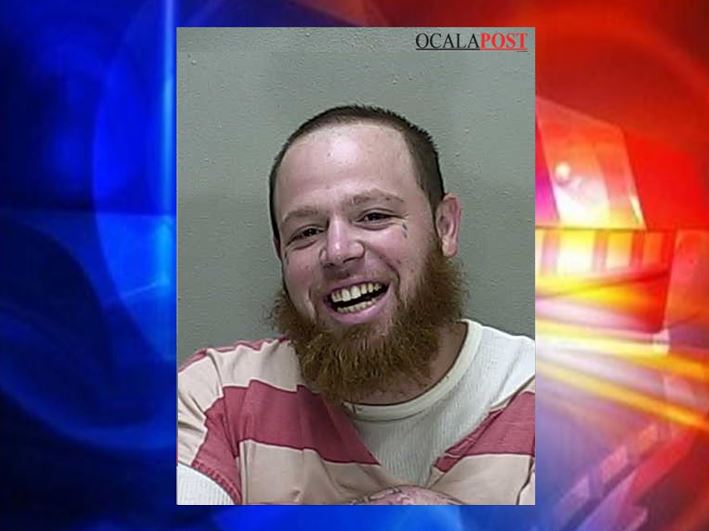 Ocala, Florida — A career criminal, Keith Joseph Crabtree Jr., 26, smiled for his booking photo Friday as he was booked on charges of Attempted Felony Murder, Possession of a Firearm by a Convicted Felon, and Possession of a New Legend Drug.
On June 8, Ocala police responded to 710 Southwest 19th Avenue after a caller reported a shooting.
When police arrived, they found that Leroy C. Wilkerson, 44, had been shot in his buttocks.
Wilkerson said he did not know the shooter, but described him a heavyset white man with a red beard. Wilkerson also gave a detailed description of what the shooter was wearing, which included a black backpack. He told officers that he had seen the shooter with a female and that, he had asked them if he could have some money.
Crabtree then asked Wilkerson if he could sell some narcotics or a pair of sunglasses for him.
According to reports, when Wilkerson could not sell the narcotics, Crabtree shot him.
A short time later, officers made contact with a person in the 1600 block of Southwest 6th Street who matched the suspect's description.
According to the arrest affidavit, Crabtree was with a white female, later identified as Shealyn Marie Largent, 22, who had been shot in the neck.
Crabtree was positively identified as the shooter.
According to reports, Crabtree stated that he was walking down Martin Luther King Boulevard with Largent when he heard gunshots and got down on the ground. Crabtree claimed that Largent was struck by a stray bullet. Crabtree denied carrying a firearm and stated that he did not know anything about a black backpack.
While at the hospital, Largent was questioned by detectives, but she refused to cooperate and would not tell police who had shot her. However, she did tell detectives where they could locate the black backpack.
When detectives located the backpack, they found a revolver and drugs.
Wilkerson and Largent were treated for their injuries and released from the hospital.
Crabtree is currently being held at the Marion County jail on a $155,000 bond. He had just been released from Prison.
Crabtree denied any wrongdoing.