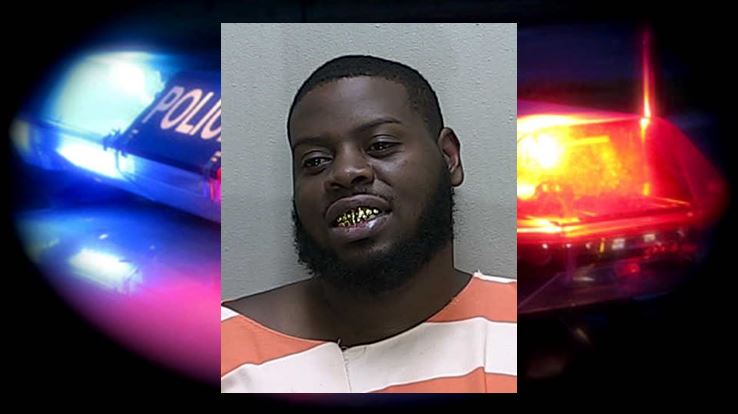 Ocala police arrested a dangerous criminal know for selling drugs at low-income apartment complexes after he ran a stop sign and attempted to flee.
Police say they were in an unmarked car patrolling the 100 block of Northwest 23 Avenue when a black car exited out of Laurel Park apartments at a high rate of speed and ran a stop sign.
When the officers turned their patrol car around, the driver of the black car, later identified as 35-year-old Daryl Bryant, accelerated and kept driving.
Reaching speeds of more than 65 MPH, Bryant turned down several roads in an attempt elude police.
Bryant eventually turned into a private driveway in the 2400 block of Northwest 4 street and exited his vehicle.
Bryant ran a short distance on foot before he became out of breath and returned to his vehicle with his hands up.
As police took Bryant into custody, they recovered a Smith & Wesson .40 caliber handgun equipped with laser sighting that Bryant had tossed in the sand. Additionally, Bryant had thrown a bag of narcotics in the sand.
The gun was loaded and had a round in the chamber. The serial number had also been filed off.
Police recovered 21 grams of Molly, one Ecstasy pill, two Hydrocodone pills, Methamphetamines, a scale, marijuana, and other unidentified pills.
As Bryant was being booked into the Marion County Jail, a corrections officer discovered a baggie of methamphetamines inside Bryant's socks.
He was charged with Possession of Methamphetamines, Possession of Drugs without a Prescription, Reckless Driving, Possession of Drug Paraphernalia, Possession of a Firearm by a Convicted Felon, Introduction of Contraband into a Detention Facility, and Possession of Marijuana.
Bryant has previous arrests for Cocaine Distribution while Armed (multiple), Distribution of Ecstasy while Armed (multiple), Distribution of Marijuana while Armed (multiple), Discharging a Firearm in Public (multiple), Possession of a Firearm while Committing a Felony (multiple), Possession of a Firearm by a Convicted Felon (multiple), Felony Battery, Forgery (multiple), Possession of Cocaine (multiple), Possession of Crack (multiple), and Possession of Ecstasy (multiple).
Bryant told police that he fled because he thought it was someone trying to rob him.
He denied that the drugs and gun belonged to him.