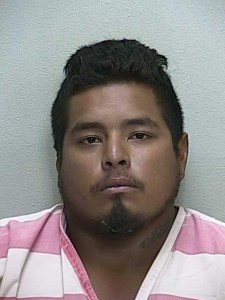 Marion County, Florida — A Marion County man is in jail after police say he kidnapped a girl on Wall Street in Eustis, and then ran her over with his SUV.
It was around 7 p.m., Sunday when authorities say Adrian Mendez, 21, offered a 14-year-old girl $200 to have sex with him, which the girl refused.
According to reports, Mendez became angry at the refusal, snatched the girl up by her hair, and pulled her into his vehicle.
The girl put up a fight, but Mendez choked the girl until she lost consciousness. When the girl regained consciousness, she said she was dazed but knew she laying on the side of the road.
According to detectives, a witness said they saw a dark SUV intentionally speed forward spinning the tires on top of the girl and, then "throw" the SUV in reverse and run over her again.
Mendez, who thought the girl was dead, then fled the scene.
Medics said when they arrived "the girl was barely hanging on to life."
Detectives said the girl sustained serious injuries to her neck, and that it appeared the vehicle had crushed her legs and hips. She was transported via helicopter to Orlando Regional Medical Center with life-threatening injuries.
Mendez was found at his home, located at 16905 SE 249th Terrace, Marion County, on Monday morning.
He was arrested and charged with Attempted Murder, one count of Aggravated Battery with a Deadly Weapon, and one count of False Imprisonment.
He is being held at the Marion County Jail without bond.