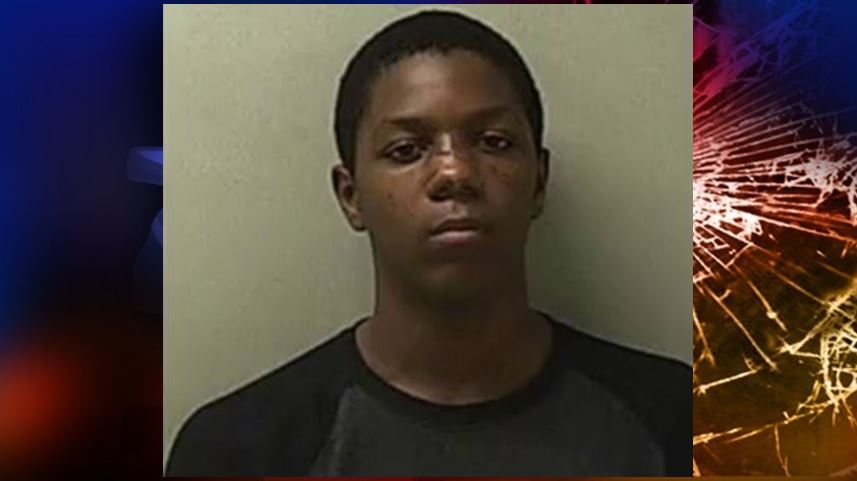 [Last updated on December 19, 2017, at 3:30 p.m.]
Ocala, Florida
— A 13-year-old boy faces multiple felony charges following his arrest Monday morning.
Florida Highway Patrol troopers say that Zyaire Keashion Evans, who was driving a stolen 2003 Chevy S-10, was traveling southbound on U.S. 441 when he struck another vehicle.
Evans was turning right onto Northwest 77th Street when he struck a 2015 GMC Terrain, driven by Meghan Burke, 26, who was stopped at a stoplight in an eastbound lane on Northwest 77th Street at the intersection of U.S. 441.
Evans struck the GMC head-on. He then exited the stolen vehicle and fled on foot in the area of Irish Acres Subdivision.
According to troopers, Evans burglarized several vehicles in the subdivision and stole multiple items, including a handgun.
While fleeing from troopers, Evans pointed the gun at two civilians who had confronted him.
FHP troopers and Marion County Sheriff's deputies set up a perimeter and used K-9 deputies to locate the 13-year-old.
He was found in a nearby wooded area.
Troopers stated that Evans had stolen the S-10 earlier in the day.
Evans faces charges of Grand Theft Auto, Fleeing the Scene of a Crash, Reckless Driving, Driving without a Driver's License, Burglary of a Conveyance, Armed Burglary, Theft of a Firearm, Possession of a Firearm by a Minor, Aggravated Assault with a Deadly Weapon, and Resisting Arrest.