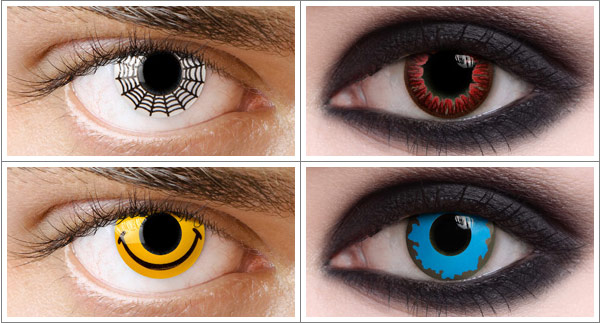 Tallahassee, Florida — The Florida Department of Health and local law enforcement agencies carried out Operation Jack-O-Lantern, October 8, 2014, through October 11, 2014.
The operation to stop potentially dangerous sales of designer, colored, or Halloween themed contact lenses culminated in 47 cease-and-desist notices served to individuals and establishments practicing health care without a license throughout the State of Florida.
The Food and Drug Administration (FDA) considers all contact lenses a medical device (this includes plano lenses also known as non prescription lenses) and can only be sold with the involvement of an eye care professional.
They are not cosmetics or over-the-counter merchandise, they are medical devices regulated by the FDA. Places that advertise them as cosmetics or sell them without a prescription are breaking the law.
Designer contacts were removed as over-the-counter merchandise several years ago when hundreds of people were permanently blinded after improperly using these types of contact lenses.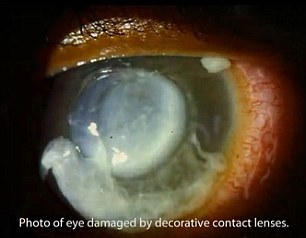 They are not "one size fits all."
An eye doctor (ophthalmologist or optometrist) must measure each eye to properly fit the lenses and evaluate how your eye responds to contact lens wear.
A poor fit can cause serious eye damage, including:
Scratches on the cornea (the clear dome of tissue over the iris – the part of the eye that gives you your eye color)
Corneal infection (an ulcer on the cornea)
Conjunctivitis (pink eye)
Decreased vision
Blindness
Places that sell decorative lenses without a prescription may give you few or no instructions on how to clean and care for your lenses.
Failure to use the proper solution to keep contact lenses clean and moist can lead to infections, said Bernard Lepri, O.D., M.S., M.Ed., an optometrist at FDA. "Bacterial infections can be extremely rapid, result in corneal ulcers, and cause blindness—sometimes within as little as 24 hours if not diagnosed and treated promptly."
"The problem isn't with the decorative contacts themselves," said Lepri. "It's the way people use them improperly—without a valid prescription, without the involvement of a qualified eye care professional, or without appropriate follow-up care."
You should never buy lenses from:
Street vendors
Salons or beauty supply stores
Boutiques
Flea markets
Novelty stores
Halloween stores
Music or video stores
Convenience stores
Beach shops
Internet (unless the site requires a prescription)
The Department's Division of Medical Quality Assurance (MQA) Unlicensed Activity (ULA) program, under authority of Florida Statute 456.065, protects Florida residents and visitors from the potentially serious consequences of receiving health care services from an unlicensed person. The ULA program investigates all unlicensed health care activity complaints and allegations, and works in conjunction with law enforcement and the state attorney's offices to prosecute individuals practicing without a license.
Practicing health care without a license is a felony-level criminal offense in many instances. Treatment by an unlicensed provider is dangerous and could result in further injury, disease, or even death.
Please follow and like us: