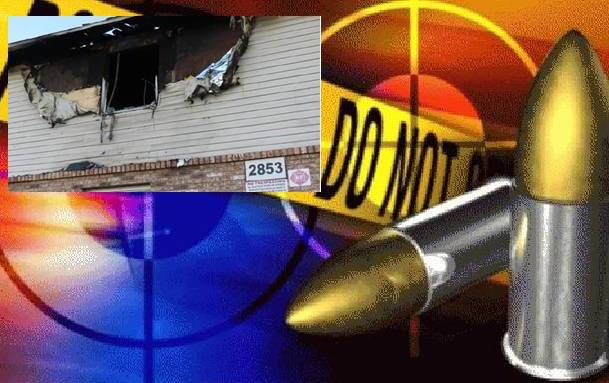 Ocala, Florida — Residence of Spring Manor Apartments say a shooting that happened overnight does not surprise them.
On today's date, July 25, 2014, at approximately 1:37 a.m., the Ocala Police Department received a call in reference to a subject that had been shot at Spring Manor Apartments, 2851 NE 7th St., Ocala, Florida.
According to Ocala Police Department's Public Information Officer, Angy Scroble, units arrived in the complex within 30 seconds of being dispatched and found a black male in the grassy area in front of building 2851 receiving first aid from a resident of the complex.
The subject had suffered multiple gunshot wounds and was transported by ambulance to Ocala Regional Medical Center where he was pronounced deceased at 2:25 a.m. The victim was identified as Jaire Burgess, 19.
While officers were still on scene in the complex, they heard approximately five gunshots coming from the front of the complex and the sound of cars speeding off. No persons nor evidence of the shots were located.
Preliminary information from the scene is that some sort of an altercation occurred between Burgess and other unknown persons prior to him being shot. Officers and detectives are still on scene at this time looking for witnesses and further information on what took place.
A nearby resident said that she didn't associate with Burgess, but said he was mostly known for his rapping talents and singing abilities.
In June of 2013, Mervyn Cotton, 20, was booked into the Marion County Jail after he opened fire at Spring Manor Apartments and wounded several people. One of the bullets went through a wall and hit a man in the shoulder as he sat on his couch watching TV.
In March of 2014, Ocala Post reported on a strong-arm robbery in Spring Manor Apartments, in which a victim was severely beaten and then stripped down to his boxers. Police said the suspects took his clothes and all of his personal items.
Additionally, while officers and detectives were still in the complex, smoke started coming out of building 2853, apartment H. By the time officers were able to respond to the building, flames were coming from the roof of the building. Officers evacuated all residents from the building just prior to the apartment becoming fully engulfed in flames.
Ocala Fire Rescue responded and put the fire out; there were no victims found within. According to OFR's Public Information Officer, Ashley Lopez, the building has now been condemned by the Building Inspector – no residents will be allowed in at this time – and the fire is considered suspicious.
Lopez also advised that the Red Cross had been contacted and would be responding to assist with the displaced residents.
One woman has lived in the Spring Manor Apartment complex for more than five years.
"Unfortunately a young man was shot to death. This place is getting bad…it happens all the time here," she said, referring to gunshots. "A lot of times no one even reports on it."
One female resident said that drug deals and gunshots are commonplace and a person tends to get used to it. "If I had more money I would definitely move to a better neighborhood, but if the trash would just stay out it wouldn't be so bad." she said.
All of the residents that spoke with Ocala Post had strong opinions about the property manager that lives on-site. They said that the property manager is worthless and she needs to be replaced with someone who will take the job serious. One resident accused the property manager of only taking the job because of the free housing.
None of the female residents wanted to be identified for fear of retaliation. One stated that she was almost to nervous to even say anything at all.
The shooting and suspicious fire are still under investigation. There is no information at this time to link the two incidents; however, both are still actively being investigated. Further information will be released as it becomes available.
While trying to photograph the scene, the Spring Manor Apartment manager forced Ocala Post, WESH, and TV20 off the property.
Please follow and like us: