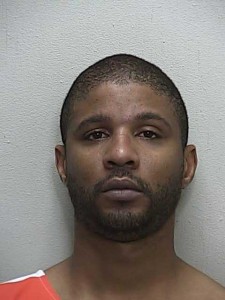 Ocala, Florida — On January 12, 2014 the Marion County Sheriff's Office responded to the 9000 block of SE 88th Street in reference to a disturbance.
Upon arrival, Jay C. McBride advised that he and his girlfriend, Gina Celona, were having an argument about her smoking marijuana inside the house, and McBride produced a small tin which contained a very small amount of marijuana to the deputy, according to reports.
The deputy asked McBride if he could separate from his girlfriend for a little bit in order to diffuse the situation, to which McBride responded, "I am a convicted felon and I cannot leave my home." The deputy advised that he did not have to leave the home, but he did need to separate himself from his girlfriend. McBride then left for his mother's house.
Deputies remained on the scene and questioned Celona about what had happened. Celona informed deputies that McBride is paranoid and placed cameras in all of the windows, and taped bullets to each window as well. According to deputies, there was ammunition taped to each window inside the home as well as some on the outside.
Deputies then went to question McBride at his moms house about the bullets and cameras. McBride told deputies that he had placed the cameras in the windows because it's a former drug dealers house. He also said he placed the bullets in the windows to warn off anyone that may come looking to buy drugs.
Deputies confirmed that McBride was a convicted felon with a long criminal history, including seven felony convictions, one of which was for felony battery.
McBride was advised he was being placed under arrest for Possession of Ammunition by a Convicted Felon and he began to scream, "I did not tape the bullets on the windows." McBride was arrested and placed in the back of the patrol car, at which time he became agitated and began striking his head on the glass in the patrol car, and after several strikes with his head he broke the glass, according to reports.
McBride was transported to the Marion County Jail without further incident. He was charged with Possession of Ammunition by a Convicted Felon and Property Damage Over $200.
Bail was set at $10,500.
McBride's girlfriend was not charged.
Please follow and like us: