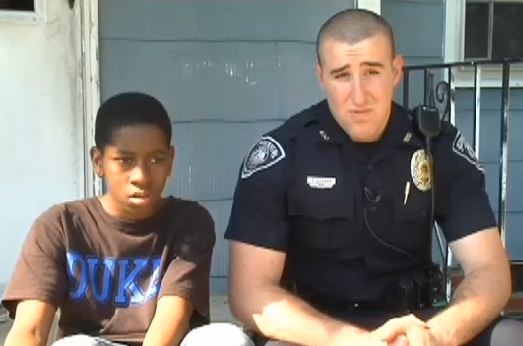 Sumter, South Carolina — Cameron Simmons, 13, called Sumter police after he had a fight with his mom and younger brother. Simmons told police that he was upset about fighting with his mom and he didn't want to live with her anymore.
When officer Gaetano Acerra responded to the call, he allowed Simmons to vent to him about the situation.
After several minutes of speaking with Simmons, officer Acerra went into the house to speak with the boys mother. While inside the home, Simmons wanted to show the officer his bedroom.
Officer Acerra said what he saw broke his heart.
According to Officer Acerra, Simmons didn't have anything in his bedroom, not even a bed. Simmons would sleep on an inflatable mattress that would deflate in the middle of the night. Officer Acerra said Simmons was basically sleeping on the floor.
After leaving, Officer Acerra decided he wanted to do something about Simmons' situation, and he did. The next day Officer Acerra began taking donations, he also contributed to the fund himself.
He then took the donations to the Habitat for Humanity and began purchasing items at discounted prices.
A few weeks later, Officer Acerra drove to Simmons' house with a truck load full of goodies.
He brought him a bed, dresser, chair, TV, desk and a Wii game system that was donated after the person that donated it heard about what Officer Acerra was doing.
A spokesperson from the Sumter Police Department said residents in the community wrote letters to the Sumter Police Department telling them that they appreciated what the officer did. Residents thanked Officer Acerra for taking law enforcement back to what it should be, a public service.
"I didn't do this for publicity or to get people to notice me," Acerra said. "I did it because I could. It was the right thing to do and I think people should do things like this."
Please follow and like us: