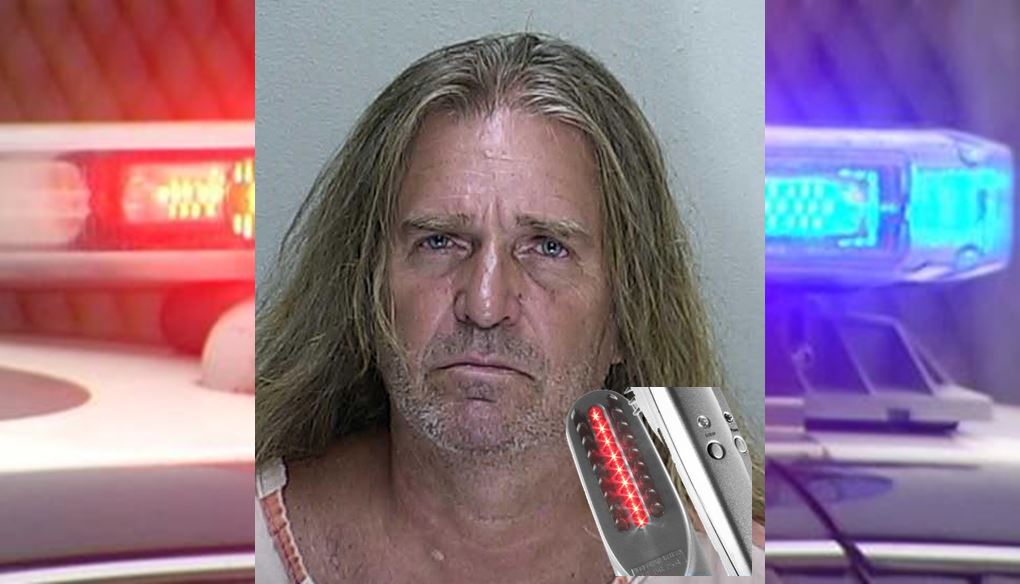 Silver Springs Shores —  On Wednesday, Marion County Sheriff's Office (MCSO) Helicopter Pilot, Sergeant Darren Bruner, and Tactical Flight Officer, Sergeant John Rawls, were assisting deputies on the ground with a suspicious vehicle investigation in the area of Almond Road and Banyan Road when Sgt. Bruner advised his helicopter had been struck with a laser.
Sgt. Bruner reported that while he was circling near the incident of the suspicious vehicle, a red laser hit the helicopter and appeared to track it.
Sgt. Bruner stated that he then navigated the helicopter in the direction of the laser and was hit with the red laser at least three or four more times.
According to reports, it was during that time that Sgt. Bruner momentarily had a hard time seeing out of his night vision goggles.
Sgt. Bruner was then able to pinpoint the exact location where the laser was coming from and direct ground deputies to that area.
As the deputy approached the garage of the house, the suspect, later identified as Mark Geoghagan, 55, stepped out of the garage.
When the deputy asked Geoghagan why he was shining a laser at the helicopter, Geoghagan replied, "It was not a laser."
Geoghagan then voluntarily retrieved a gray Bosley LaserComb and showed it to the deputy. A lasercomb is a device that uses lasers to stimulate hair growth.
On the handle of Bosley LaserComb there was a warning label that read: Laser Light, avoid direct eye exposure, class 3R laser product.
Geoghagan told the deputy that he was in the backyard when he pointed the laser at the trees. He said he was surprised at how far it went, so, he "pointed it into the air and the helicopter flew by."
Geoghagan stated, "I did not know it would go that far. I did not intend to hurt anyone."
"When they flew by I pointed [the laser] that way and I had no idea that it would even reach anywhere, no sir," Geoghagan stated.
Geoghagan then asked if there was anything he could do for them. "I'll even cut your grass," Geoghagan stated.
Geoghagan was arrested and charged with Pointing a Laser Light at Driver or Pilot of Sheriff's
Department Helicopter/Pilot, which is a third-degree felony.
Geoghagan is being held on a $2,000 bond.
MCSO said that they do not have video of the incident.
Please follow and like us: