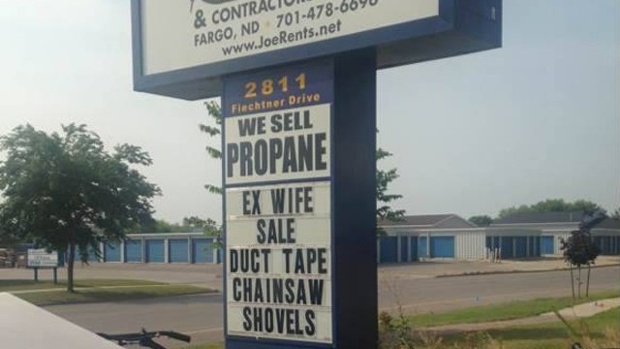 A contractor supply store removed a sign after multiple complaints from women in the area.
Joe Rents & Contractors Supply store manager Curtis Renner said, "I meant the sign as a joke, but realized it wasn't after my phone began ringing off the hook."
The business is located in North Dakota.
One of the phone calls came from Christopher Johnson, executive director of the Rape and Abuse Crisis Center. He called the business and expressed his anger about the sign after receiving complaints from multiple women.
"It's not a joke," said Johnson. "It's a pretty strong statement."
Renner said he personally thinks it was just a humorous sign, but removed it anyway.
Many locals ridiculed Johnson, citing freedom of speech infringement.
The controversy over the sign was similar to that over a sign that was posted in front of a Daytona Beach, Florida motel in 2012, that read, "Having an affair? Stop here! Low rates and discreet."
What do you think?
Please follow and like us: