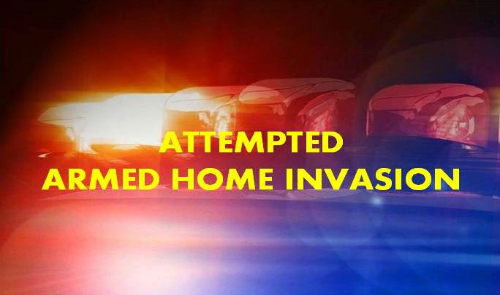 Ocala, Florida — An attempted home invasion has left a family shaken.
Ocala Police responded to a residence in the 900 block of NE 11th Avenue after one of the victims dialed 911 to report a home invasion.
One of the men asked the victim for a ride, at which time the victim noticed the man standing in the doorway was holding a stun gun.
According to reports, when the man realized the victim saw the stun gun [he] hit the trigger and activated it. The intruder then attempted to force his way into the residence.
The victim told police he then tried to close the door, but the intruder tried to Tase him while kicking and pushing the door.
According to reports, after struggling for a few minutes, the victim successfully closed the door, and immediately dialed 911.
The victim's wife was in the shower while his infant son was sleeping on the couch. The victim's mother was also in the home at the time of the incident.
None of the victims were injured during the attempted home invasion.
The suspects are described as black males, approximately 16 to 18 years of age with short hair. They were wearing dark shirts at the time of the incident.
The stun gun is described as being the size of a large flashlight, black with a rubber grip.
Police believe the suspects thought the wife was home alone because she had just arrived and her vehicle was the only vehicle in the driveway. The incident occurred shortly after she entered the residence and got in the shower.
The Ocala Police Department is asking that all citizens be aware of their surroundings at all times, especially women.
If you have any information about this case, you are asked to contact the Ocala Police Department by calling 352-369-7000; by contacting Crime Stoppers of Marion County at 352-368-STOP (7867), www.ocalacrimestoppers.com; or by texting tips to 274637 using keyword 368STOP. Anonymous tips can also be submitted through the OPD mobile app, MYPD, which can be downloaded on Apple and Android devices.
Please follow and like us: