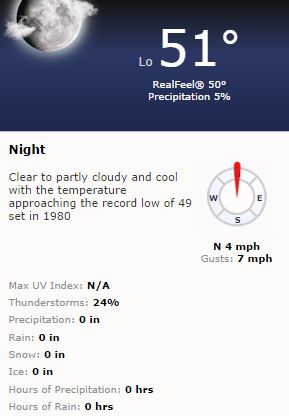 After dealing with a rather wet and soggy September month, drier weather will finally arrive in Florida as this first week of October moves in and the state trends out of the rainy season. Not that there is such a thing as "out of the rainy season" in Florida.
Tonight's forecast is breezy and the low should dip down to 51 degrees with a feel of 50, which will be close to the record of 49 degrees set in 1980 for this time of year.
Some meteorologists have predicted Ocala will beat that record, dropping to 48 degrees overnight.
So, open your windows, grab your partner, and turn on that scary movie because it is going to be a beautiful night.
[Updated on October 5, 2014, at 9 a.m.]
Temperatures will be continue to dip today and into Monday, October 6, 2014. Look forward to sunshine with a high of 73° and a low of 48°, a beautiful way to start the work week.