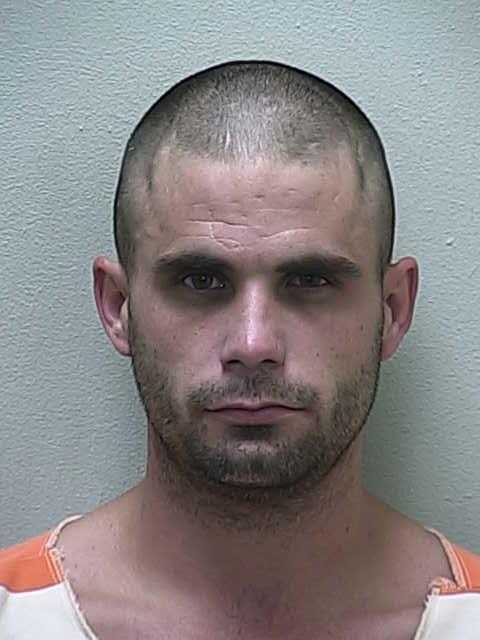 Ocala, Florida — On June 6, 2014, Deputy Jesse Terrell responded to the 1200 block of NE 35th Street in reference to a disturbance.
When Deputy Terrell arrived on the scene he was met by a female victim whom stated her live-in boyfriend and father of her 2-month-old daughter had assaulted her.
The victim told the deputy that she had recently found out her boyfriend, Shawn Collins, 32, was using cocaine and she had asked him to leave because she did not want that type of element in she and her daughter's life.
The victim stated that Collins became enraged, grabbed her by her shoulders and threw her into the kitchen wall. Collins threw the victim with such force it caused her head to slam into the wall, leaving a head shaped hole, according to reports.
Scared for her life, the victim ran outside with her daughter and attempted to dial 9-1-1 from her cell phone. As she was attempting to dial 9-1-1 Collins was screaming at her, stating "Don't you call the police," according to statements provided to the deputy by the victim.
While she was holding her daughter in her arms Collins began chasing the victim around the yard, eventually tackling her. He then held the victim down on the ground and forcefully ripped the cell phone from her hands. Collins then took the victims car keys and fled the scene in her vehicle.
Nearby witnesses stated that they could hear Collins screaming at the victim as he chased her around the yard trying to tackle her. Witnesses also stated the victim was holding her 2-month-old daughter.
Collins was tracked down and arrested. He refused to cooperate with the deputy during questioning.
Collins is a felon and career criminal with an extensive arrest record in Florida. In 2004 Collins was arrested after deputies realized he was a Fugitive From Justice and wanted in Georgia.
He was transported to the Marion County Jail and charged with Aggravated Battery (F) and Obstructing Justice by Threat/Tampering with a Victim (F).
He is currently being held on a $10,000 bond.
The hole in the wall, fresh drywall dust on the floor as well as the victim were photographed. The photos were placed into evidence.
The Florida Department of Children and Families was also notified.
The child was not harmed during the incident.
Please follow and like us: