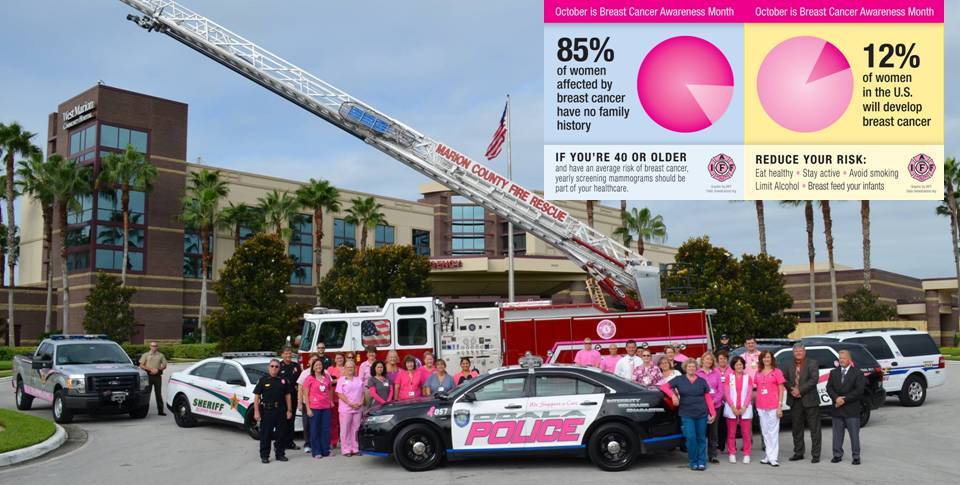 Marion County, Florida – In addition to fighting fires, responding to car accidents, and other medical emergencies, your Marion County firefighters are sporting the color pink throughout October in efforts to fight breast and other cancers.
Firefighters exposed to carcinogens and other chemicals while on the job are disproportionately diagnosed with breast cancer – just one of many cancers linked to the work firefighters do.
With one in eight women diagnosed each year, an estimated 232,340 new cases of breast cancer and 39,620 deaths will be reported for the year 2013. Among all women affected, 85 percent have no family history.
"Your firefighters and paramedics work hard to save lives both on and off the job. They are motivated to get involved for many reasons, and often it's because they have been personally affected by the disease," said Ryan O'Reilly, a firefighter and paramedic with the Marion County Fire Rescue and secretary of the Professional Firefighters of Marion County, IAFF Local 3169. "We are supporting breast cancer awareness and prevention by encouraging others to give so that no breast cancer patient goes without life-saving treatments or having hope for a cure."
Article continued below
According to Scott Chappell, president of the Marion County Firefighters Benevolence Fund, the charitable foundation of the local firefighters association, around $10,000 has been raised in recent years to support families affected by cancer, cancer research, and provide free mammograms to women who may not otherwise be able to afford early detection screenings.
Last year alone, $3,500 was raised in support of Michelle-O-Gram, a local charity established in the memory Michelle Standridge, the wife of a Marion County firefighter who lost her battle to cancer. This charity not only raises money to pay for mammograms, but also helps negotiate prices with radiology centers, which allows women without insurance or the necessary funds to obtain mammography testing as well as breast ultrasounds. For more information how you can help, please visit www.michelleogram.com.
This year, the benevolence fund is also a sponsor of the Dancing with the Angels Ball, an event to help local women affected by breast cancer. The formal dinner and dance is on Saturday, October 11, 2014, beginning at 6 p.m. at the Ocala Holiday Inn. For ticket information please call (352) 236-2599
Anyone can be at risk for breast cancer and have multiple risk factors. But risk factors don't tell us everything. Having a risk factor, or even several, does not mean that you will get the disease. Most women who have one or more breast cancer risk factors never develop the disease, while many women with breast cancer have no apparent risk factors (other than being a woman and growing older). Even when a woman with risk factors develops breast cancer, it is hard to know just how much these factors might have contributed.
Some risk factors, like a person's age or race, can't be changed. Others are linked to cancer-causing factors in the environment. Still, others are related to personal behaviors, such as smoking, drinking, and diet. Some factors influence risk more than others, and your risk for breast cancer can change over time, due to factors such as aging or lifestyle.
To help reduce your risk, be sure to maintain a healthy weight, eat a diet rich in fruits and vegetables, exercise, and limit alcohol consumption.
However, to help minimize the effects of this disease, early detection is key.
Your professional firefighters encourage everyone in this community to participate in breast cancer awareness and prevention activities.
For more information regarding the Marion County Firefighters Benevolence Fund fundraisers, please visit MCFBF.org.
Please follow and like us: