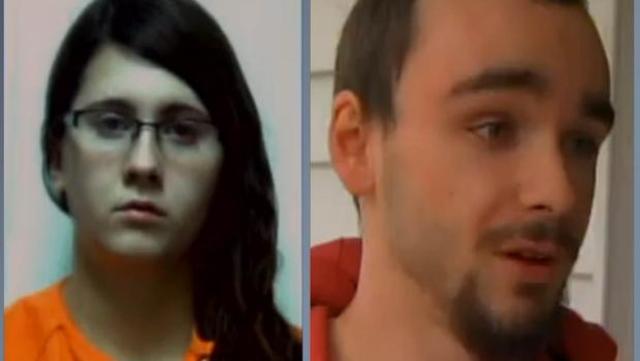 Sunbury, Pennsylvania — Nineteen-year-old Satanist and Craigslist killer Miranda Barbour, says Troy LaFerrara of Port Trevorton was not her only victim.
In a prison interview Friday night with The Daily Item, Barbour said LaFerrara was just one of dozens of victims she killed.
She and her husband, Elytte Barbour, 22, have been charged by Sunbury Police in the November 11, 2013, fatal stabbing of Laferrara after the couple lured him in through Craigslist.
Miranda told reporters that she has killed so many people, that after 22 victims, she stopped counting. Miranda claimed she has murdered multiple people across four states is six years. She said she has killed in Alaska, Texas, North Carolina, and California; with majority of the killings taking place in Alaska.
Police confirmed they had been investigating other possible Craigslist killings prior to Miranda releasing her statement, however, police would not go into detail about the case.
Miranda told police, "I can pinpoint on a map where you can find them." Meaning the other bodies.
"I remember everything," Miranda Barbour said. "It is like watching a movie."
She said she agreed to sex for $100 with LaFerrara, whom she met through a Craigslist ad. The two met in the parking lot of the Susquehanna Valley Mall in Hummels Wharf, and drove nearly six miles to Sunbury. Miranda said she was going to let LaFerrara out of her car, but didn't.
"He said the wrong things," she said. "And then things got out of control. I can tell you he was not supposed to be stabbed. My husband was just supposed to strangle him."
According to police reports, Miranda Barbour knifed LaFerrara 20 times as Elytte Barbour sprang from the floor of the back seat to strap a cord around LaFerrara's neck. Miranda said that LaFerrara tried to grope her, but she said it was his words that set her off.
"I lied to him and told him I just turned 16," she said. "He told me that it was OK. If he would have said no, that he wasn't going to go through with the arrangement, I would have let him go."
Miranda told reporters she wanted to come clean and get everything off of her chest, tell her life story and stop living a lie.
She said she was molested by a relative when she was just four-years-old. Elizabeth Dean, Miranda's mother, confirmed Saturday that her sister's husband was later arrested and charged with sexual abuse of a minor and sentenced to 14-years in prison.
"It was bad," Dean said. "I never let [her]stay anywhere except for my sister's house, and I was devastated when I found out."
Miranda also claimed she was introduced to murder at the age of 13, when she was a member of a Satanic Cult. She said she has always held on to [her] Satanic beliefs.
Miranda said she does not feel remorse for any murder she has committed. "I only kill bad people," she said.
Even though police would not comment on the case, they did say that they are very concerned about the claims [she] has come forward with.
Investigators said they are not leaving any stones un-turned, and will be reviewing all of Miranda's statements.
Please follow and like us: