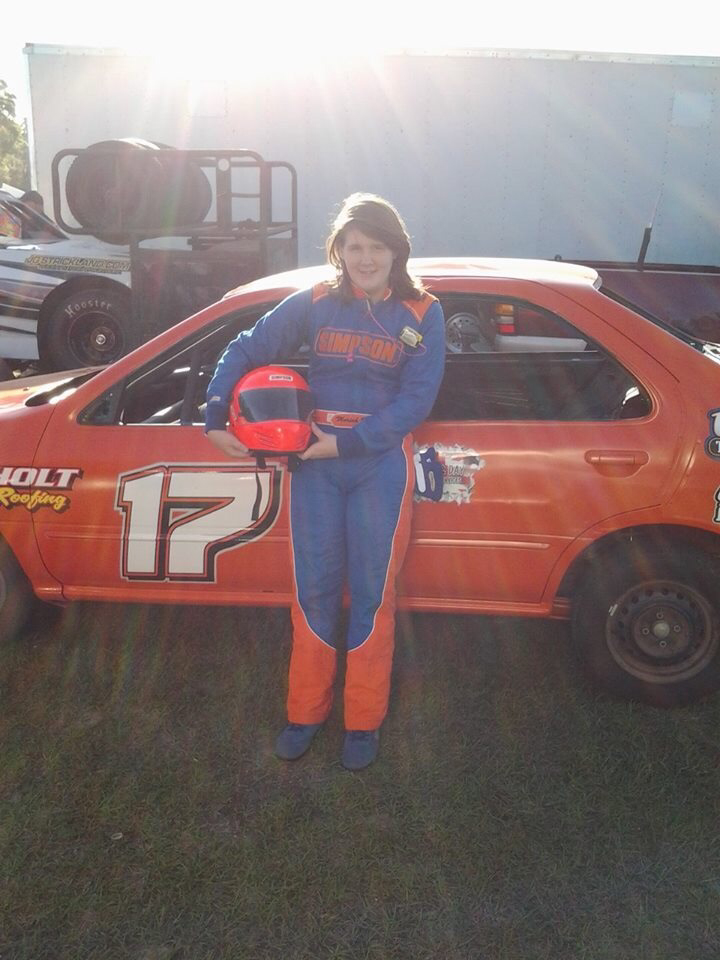 Ocala, Florida — Niokoa Breeze Johnson, 15, died March 23, 2014 with her family by her side in Gainesville, Fl.
Niokoa Was born September 29, 1998 in Gainesville, FL to Ricky and Shannan Johnson. She loved fishing and camping, as well as anything else involving the outdoors. Niokoa loved to be with her family and friends.
She leaves behind many family members and friends. Mourning her loss are parents Ricky Johnson and Shannan Sutton; her siblings Nakiya Sutton, Mariah Berry, and Dakota Johnson; her grandparents, Dorothy Johnson and Vivian Sutton. She will also be missed by her only dog, Alley, as well as countless other family and friends whom were blessed to know her.
Niokoa touched the lives of many people with her smile and love for life. There will be an open viewing for Niokoa on Wednesday, March 26, 2014 from 5 p.m. to 7 p.m. at the Forest Meadows Funeral Home. The Funeral service will be graveside at 11:30 a.m. on Thursday, March 27th 2014 at Historic Micanopy Cemetery, Micanopy, FL.. Donations can be made to the Niokoa Johnson account at the Florida Citizen's bank in Micanopy, Fl.
The family wants to thank everyone for the continued love and support. Niokoa was dearly loved and will be truly missed. She left this world doing what she had always dreamed about and what she worked so hard to achieve. Niokoa spent countless hours working on her racecar and was so excited to be able to do what she loved. Saturday, March 22, was the best day of her life. Heaven has truly gained an angel.
For those who do not know, Niokoa Johnson's viewing is at 5 p.m. Wednesday, at Forest Meadows Funeral Home in Gainesville, Florida. Her funeral is this Thursday at 11:30 a.m. at the cemetery in Micanopy, Florida.
FUNERAL ATTIRE: At the funeral, the family asks you come as you would normally dress, even if it's blue jeans and a t-shirt, actually that's what the family would prefer. The family said, "Niokoa wouldn't want it any other way."
Niokoa's father, Richard Johnson had purchased a 1997 Nissan Sentra for her so she could fulfill her dream of racing cars.
When Niokoa wasn't attending Micanopy Middle School, she was working on her racecar with her father.
According to reports, Niokoa was severely injured while conducting a time trial run at Bubba Raceway Park off of Gainesville Road, Ocala, Florida. Witnesses say it was around 6:30 p.m. Saturday, March 22, 2014 when Niokoa was driving her Red Nissan Sentra and lost control of the vehicle in her second lap on the north end of the track and slammed into a concrete barrier.
Niokoa was unconscious when racetrack officials and others pulled her from the smashed vehicle.
The teen was rushed to Ocala Regional Medical Center where she was then air lifted via helicopter to Shands Hospital in Gainesville, Florida.
Niokoa passed away on March 23, 2014 as a result of her injuries from doing what she loved to do most, race.
Niokoa's sister, Nakiya Sutton, posted a poem on her Facebook page today March 25, 2014 in memory of her sister:
The departed ship
It sailed into the sunset
on a glass-like sea of blue
It's distance growing further
till it disappeared from view
One who stood beside me
softly whispered, "She is gone"
but in my heart, though unseen
I knew the ship sailed on
For a ship on the horizon
disappearing in the night
Is not one gone forever
but only gone from sight
Death is as a ship that sails
beyond where we can see
to a place that God, our Father
has prepared for you and me
A place of peace and beauty
where loved ones gone before
will rush in joy to greet us
on the day we reach it's shore
Were heard by those awaiting
as our ship approaches near
not the whisper, "She is gone,"
but the joyful shout, "She's here!"
Ron Tranmer©
###
Condolences have poured in from all over the United States from people within the racing community.
Many have said once you are in the racing life, everyone is family and all racers stick together.
Bubba Raceway Park released a statement on their Facebook fan page that read: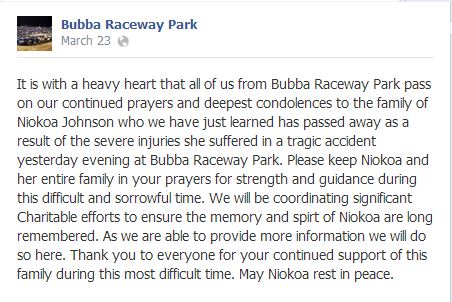 Whether you are a racer or not, a young life has been tragically lost, and during this time the entire community has come together to show support for the family and for Niokoa Johnson.

Please follow and like us: