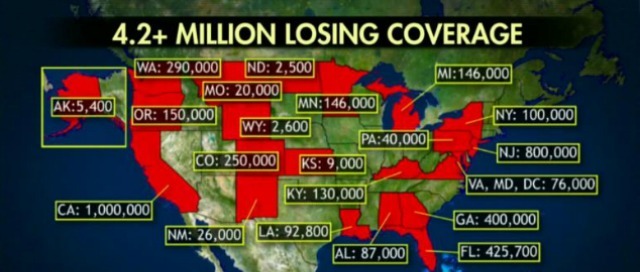 Washington — America sat back and watched as 'Obamacare' launched then quickly burst into flames as the website that the government spent millions to build, failed.
What Americans may not know is what lurks in the background of Healthcare.gov. Reports show that millions of unknowing Americans are being set up for identity theft. Investigations show that convicted felons are being hired to help navigate the failed website known as Healthcare.gov, navigated by felons that are just waiting to grab your personal information and wreak havoc with your identity.
And although President Obama, Congress and staff members , as well as union members have gotten their exemptions, there is no such luck for the rest of America. As of today over four million Americans have received cancellation notices from their current insurance providers informing them that their currently policy is being canceled due to 'Obamacare.' On July 15, 2009 Obama said, "If you like your healthcare plan, you will be able to keep your healthcare plan, period. No one will take it away, no matter what." Obama responded to Americans in regards to the cancellations by saying, "Get on the website and shop around for a new plan." Despite the website not working.
In a document obtained by Ocala Post that was prepared by the IRS on July 19, 2010 and provided to the "President," it clearly shows Obama knew Americans could not keep their current plans, yet he continually lies to the public in regards to 'Obamacare.'
f. Impacts on the Individual Market
"The market for individual insurance is significantly different than that for group coverage. This affects estimates of the proportion of plans that will remain grandfathered until 2014. As mentioned previously, the individual market is a residual market for those who need insurance but do not have group coverage available and do not qualify for public coverage. For many, the market is transitional, providing a bridge between other types of coverage. One study found a high percentage of individual insurance policies began and ended with employer-sponsored coverage. More importantly, coverage on particular policies tends to be for short periods of time. Reliable data are scant, but a variety of studies indicate that between 40 percent and 67 percent of policies are in effect for less than one year. Although data on changes in benefit packages comparable to that for the group market is not readily available, the high turnover rates described here would dominate benefit changes as the chief source of changes in grandfather status.
While a substantial fraction of individual policies are in force for less than one year, a small group of individuals maintain their policies over longer time periods. One study found that 17 percent of individuals maintained their policies for more than two years, while another found that nearly 30 percent maintained policies for more than three years.
Using these turnover estimates, a reasonable range for the percentage of individual policies that would terminate, and therefore relinquish their grandfather status, is 40 percent to 67 percent."
Experts now say that doctors and specialists at top hospitals are refusing to participate due to only being paid Medicare like rates, and Universities across the county are reporting that they have already seen a decline in medical school enrollment.
As early as this week Obama is still standing by 'Obamacare', urging the public to sign up despite the fact that Healthcare.gov is broken and completely disregarding the fact that Americans' insurance policies are being canceled.
Florida Attorney General Pam Bondi wrote the following:
"As Florida's Attorney General, one of my primary responsibilities is consumer protection. The implementation of the Affordable Care Act has been laden with challenges and glitches, all of which adversely affect consumers. For this reason, I have joined attorneys general from nine other states in a letter to Health and Human Services Secretary Kathleen Sebelius asking for legislative action to mitigate the ACA's problems.
In the letter we sent this week, we outline three major issues: statutory and regulatory delays; technological deficiencies; and security concerns. In doing so, we explain how each of the issues affects consumers, and we ask the Obama Administration to work with Congress to support legislative action to rectify these areas of concern.
Regardless of the merits of the ACA itself, Americans deserve to have an effectively implemented program, swift resolution to technological enrollment problems, and peace of mind that their personal security will not be compromised with the implementation of the ACA. "
###
Documents show Obama and his administration knew three years prior to the launch of the website that legal citizens of The United States would lose their healthcare plans, and he still moved forward with the law; telling Americans on national T.V., "If you like your healthcare plan, you will be able to keep your healthcare plan, [period]."
Welcome to Healthcare.gov !
Please follow and like us: