[Last Updated January 30, 2014 at 8:48 p.m.]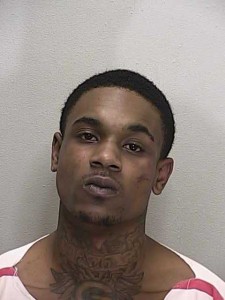 Ocala, Florida — On January 26, 2014, the Marion County Sheriff's Office received a call in reference to a 19-year-old girl that had been raped at the Hilltop Manor Apartments.
Upon arrival, Deputy Jones made contact with the victim, who was sitting on the couch in the living room of the apartment.
According to reports, the victim told the deputy that a man known as "Soulja" had raped her on the couch where she was sitting. The victim said he forced himself on her and that she was anally penetrated. She also said that non-consensual vaginal contact was made by the suspect.
The victim told the deputy she was still wearing the same clothes she had been wearing at the time of the rape and that she had "wiped" and placed the tissue in the bathroom after she was attacked. That evidence was later collected for DNA testing.
A witness, who resides in the apartment, told the deputy that she has known "Soulja" for approximately two months. The witness advised she had met "Soulja" on Facebook and had agreed to meet him on January 26, 2014, at 2 .am., for a "booty call". According to the witness, she had consensual sex with "Soulja" in her bedroom, then she fell asleep. The witness advised she did not learn about the rape until she woke up and the victim told her about it.
Further investigation revealed that "Soulja's" real name is Dontae L. Davis, who is known as "Soulja Million". Davis is a known rapper in his neighborhood, who lives a life of violence and drugs.
Davis was first arrested in 2007, when he was just 18-years-old, and was convicted of Premeditated (First Degree) Attempted Murder with a Firearm. However, he was only sentenced to four years in prison. He was released in early 2012 with two years probation attached to his release. In November of 2012 a warrant was issued for Davis' arrest after he fled the scene of an accident. He was arrested and released in Febuary 2013 after serving three months in jail.
Davis fled the scene after the incident, but he was later located and arrested. Davis is facing charges for Forced Sexual Battery with a Weapon, Resisting Arrest, and Violation of Probation.
Please follow and like us: