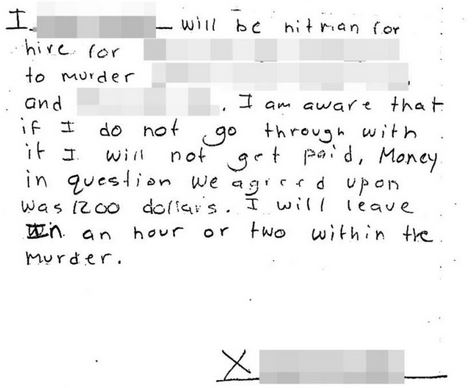 Port St. Lucie, Florida — A 14-year-old boy is accused of soliciting to have his family killed after the boy's father found a note that looked like a murder-for-hire contract in the boy's bedroom.
According to police, the note had been signed by the boy and his friend.
The note stated that the friend would kill the boy's father, step-mother, and step-brother for $1,200.
The note read:
"I (name redacted) will be hit-man for hire for (defendant's name redacted) to murder (names redacted). I am aware that if I do not go through with it I will not get paid. Money in question we agreed upon was 1200 dollars. I will leave in an hour or two within the murder."
According to reports, the boy told detectives he had planned to have his family murdered and then make it look like something went wrong during a burglary.
The boy said the plan was for him to be in his room during the alleged burglary. He said after his parents were shot he would run over to a neighbor's house and call 911.
Investigators said the boy did not have any cash or guns, but he had thought about getting access to guns since both his father and his friend's father had guns and concealed weapons permits.
The boy's father told police that he put keyed locks on his bedroom door because he was afraid his son was going to kill him in his sleep.
The boy's friend told detectives he signed the contract, but thought it was a big joke.
Police said the 14-year-old was not joking at all, and that he had thought about killing his family more than once.
Police arrested and charged the boy for Solicitation to Commit First-Degree Murder. He is being held at the Palm Beach County juvenile detention center.
Investigators said there could be more charges. The State Attorney's Office will decide whether to charge the boy as an adult.
The friend won't face charges and is cooperating with the investigation.
Ocala Post is waiting on the boy's name and photo to be released.
Please follow and like us: